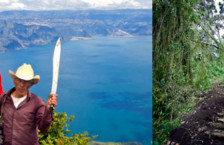 Posted on June 26, 2010 by Atitlan Tours in Tours

San Pedro Volcano is one of the volcanoes surrounding the beautiful lake Atitlan, with an altitude of 3,020 masl. Climbing San Pedro Volcano adventure starts in Panajachel (of course we are flexible, if you are located somewhere else, we can go and take you there!), the tranquility early in the morning across the lake surface, […]

Comments Off

on Tour Atitlan eco Adventure: climbing San Pedro Volcano

Continue Reading...